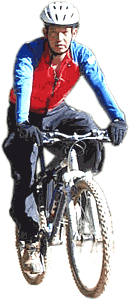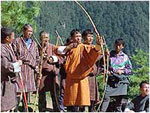 The Event : Special Mountain Biking tour and race in Bhutan, 6th to 21st October 2004 as part of the Bhutan Mountain Biking Year 2004

For the first time ever, an international bicycle tour and race, cycling through Bhutan's pristine forests and mountains and mixed with sightseeing, culture, day hikes, meeting people, adventure, etc. is organized in this hidden Kingdom in the Himalayas. An experience of a lifetime and the perfect opportunity to visit Bhutan, indulge in your favorite activity and be part of the international Year of Mountain Biking in Bhutan.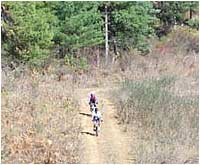 The Event:
The event consists of 5 days of cultural sightseeing, then 6 days of cycling across Bhutan, followed by 'The Fury Dragon Day', and finally 2 more days of seeing the country. The tour starts in Bumthang, central Bhutan, and takes you to Punakha across two passes of 3400 m. The Fury Dragon Day is a 38.3km uphill race, starting at 1410m (4625 ft) and ending at Dochula at 3150m (10330 ft).

Racing 1700 m (5700 ft) uphill is going to be as breathtaking as the views. You may want extra oxygen and are welcome to take your own cylinder if you don't mind lugging it uphill. Mind you, if you don't like the idea of racing, you can take your own time, provided that you reach Dochula before dark. The last few days you can enjoy Bhutanese culture, buy presents for those you left behind, go bar-hopping in the capital Thimphu, or hit the disco if you still have energetic legs.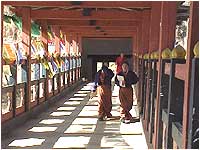 Thimphu has some of the best bars in the country and the only disco in the kingdom. If you are worn out you can try sleeping , that is , if the 10,000 dogs in Thimphu let you. And finally the last evening and the same old question 'How do I pack all these things'. And also remember your bicycle when packing.

For those who have more energy than the programme requires, want to do some more off-road cycling or rather see more of the country from their bicycles than visiting another monastery, there is an alternative or additional programme. You can take part in the alternative programme for just one or all 11 of its days.